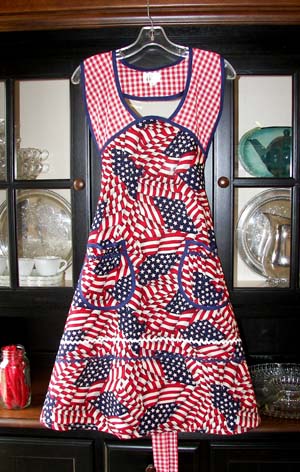 1940 Patriotic apron women number 170 $49.95 extra large $54.95 and girls number 230 $39.95 large $44.95
1940 style with flags and red gingham on the top. Blue trim and rick rack add to the beauty of our old glory. You will stand out as an American in this striking red white and blue. Wear it for the 4th of July or just year round. This apron was worn by the volunteers at the D-Day celebration and then given to the veterans for their wives.
How to dry mint tuitorial

Drying Mint is something you can do at home. Mint tea is the best, I make my own tea blend and use my mint that I dry during the summer. I make mint tea with fresh mint and it is very refreshing. There is nothing better than peppermint tea before bedtime with chamomile, it makes a wonderful tonic to relax me and help me sleep. I add mint to some of the tea blends I have bought to add to the flavor and you may also make your tea and chill it for ice tea in the summer.

All our orders go through stitchthrutime.com our other company

or you may order over the telephone at 435-648-2141
Customer service can help you with any questions.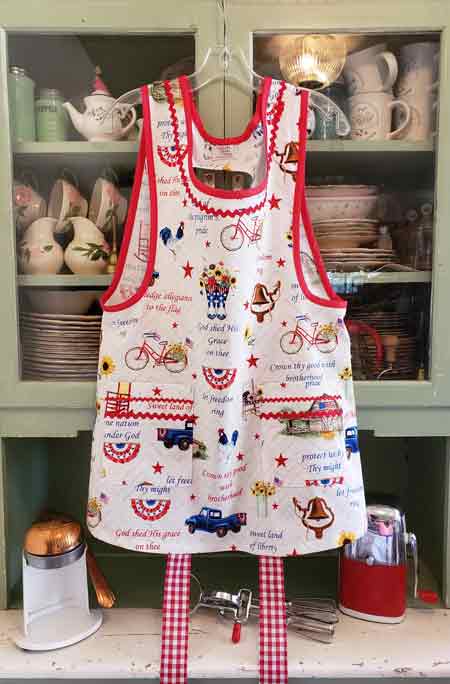 Grandma apron in Land of Liberty 2281 $49.95 extra large $54.95
All the things you think about in the good old USA. Vintage blue truck with a flag hanging off the tailgate cowboy boots with stars and stripes and daisies the Liberty Bell an old fashioned bicycle with a flag and flowers on it. Written on it is God shed his grace on thee, Let freedom ring, Sweet lane of liberty and I pledge allegiance to the flag. This is just plain darling.
It is important that old fashioned aprons are not forgotten, they deserve to be passed on to other generations. Who does not have a memory of a mother or grandmother in an apron. We want our children and grandchildren to have memories of home and loved ones in their old fashioned aprons. To have a memory as a child in a little apron like moms in the kitchen cooking together. It should not be just for past generations but future generations should have those wonderful memories also.